半導体・パッケージデバイス検査装置 Semiconductor Package Device Inspection
ハンダボールリペア装置 / Micro Solder Ball Repair Equipment
Micro Solder Ball Repair Equipment
概要

高密度実装用プリント基板・ウエハに実装されたマイクロボールの高速検査とリペアを行います。
ボール非搭載、搭載位置ずれ、ボールクラスター、余剰ボール、異径ボール、異物を検出し、高速でリペアを行います。

[Overview]
High-speed Micro Solder ball inspection and repair for high-density mounting printed circuit boards and wafers.
Detects non-ball mounted, mounting position shift, ball cluster, surplus ball, different diameter ball, Contamination, and performs high-speed repair.

用途

パッケージデバイス、FOWLPなどのバンプ形成工程


[Use]
Bump formation process for package devices, FOWLP, etc.

仕様

対応ボールサイズ   φ40µm~φ500μm
----------------------------------------------------------------
対応基板サイズ    PCB:500mm×500mm
           シリコンウエハ:12inch
----------------------------------------------------------------
検査及び欠陥修正項目


[Specification]
Corresponding ball size: φ40μm - φ500μm
----------------------------------------------------------------
Available board size PCB 500mmx500mm

Silicon wafer: 12inch
----------------------------------------------------------------
Inspection and defect correction items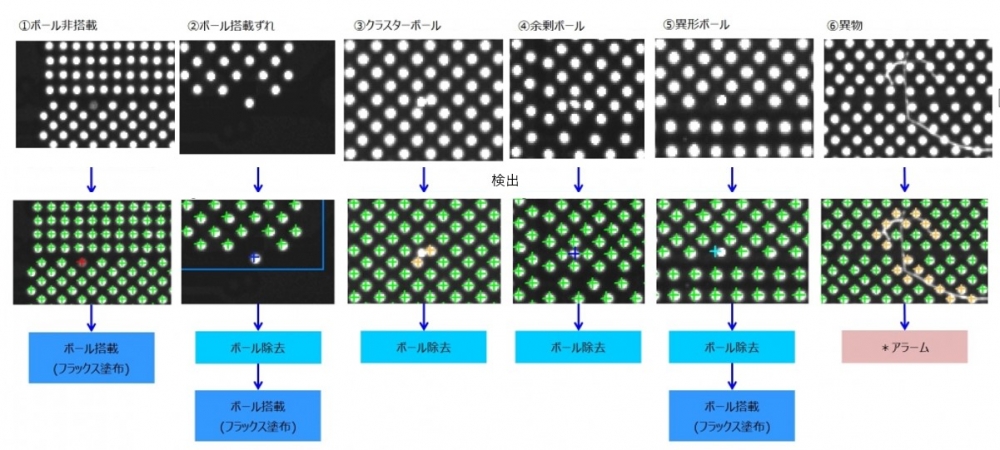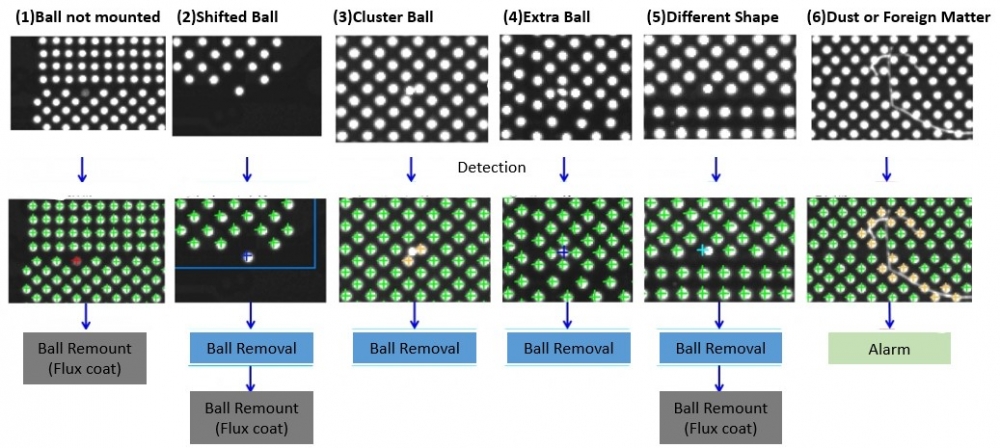 ウエハー外観検査装置(Wafer Auto Visual Inspection)
概要

デバイスウエハーの外観検査を自動で行います。
外観(パターン欠陥、異物検査、クラック)をオンフライ計測モードにて、高速そして正確に検査が出来ます。
ウエハーレビュー装置と並列に使用することで、検査時間のスループットを落とすことなく出荷検査が可能。
AI機能により、欠陥を学習することで自動で選別しChip救済し歩留まりが向上します。

[Overview]
is an automatic visual inspection system for semiconductor device wafers.
By using On-Fly measurement mode, system perform high speed and high accuracy
visual inspection for such as pattern defects, contamination, cracks.

By running in parallel with the Wafer Review System, the pre-shipment inspection
will be able to perform without reducing inspection throughput.

By AI function, it learns the state of true defects, so it accurately sorts suspicious defects
and improves the yield.

用途

チップ外観検査
内部欠陥検査(IR検査)

[Use]
Chip Visual Inspection
Internal Defect Inspection (IR Inspection)

仕様

4インチ、6インチ仕様
8インチ、12インチ、ダイシングリングウエハー、タイコウエハー仕様

[Specification]
Available wafer size
4 inch, 6 inch
8 inch, 12 inch Wafer with Dicing Ring Frames, TAIKO Grind wafer
ウエハーレビュー装置 / Wafer Review Equipment
Wafer Review Equipment
概要

ウエハ外観検査装置から提供された情報に基づき、NG画像の詳細な解析・解析データ保存・上位ホストPCと通信
鮮明な画像データをAI機能で、自動判定可能。

[Overview]
Device for detailed analysis of NG images, storage of analysis data, and communication with host PC based on information provided by wafer inspection system.

用途

半導体デバイス・CMOSデバイス製作工程での欠陥管理


[Use]
Defect management in semiconductor device / CMOS device manufacturing process

仕様

対応ワークサイズ : 12インチ/8インチ
---------------------------------------------------------------------------
ワーク状態 : Wafer ダイシング
---------------------------------------------------------------------------
ステージ位置決め精度 : ±1um
---------------------------------------------------------------------------
レビュー精度 : 3σ ≦ ±20um
*欠陥情報座標に対する位置決め精度
---------------------------------------------------------------------------
スループット : 約2000秒(10枚処理)
*欠陥数 : 100/枚
*Reference 画像撮像Mode
*欠陥場所により変化
---------------------------------------------------------------------------
レビュー(移動~AF~撮像)時間 : 最速0.5秒
*欠陥場所により変化
---------------------------------------------------------------------------



[Specification]
Applicable work size: 12 inch / 8 inch
-------------------------------------------------- -------------------------
Work state: Wafer dicing
-------------------------------------------------- -------------------------
Stage positioning accuracy: ± 1um
-------------------------------------------------- -------------------------
Review accuracy: 3σ ≤ ± 20um
* Positioning accuracy for defect information coordinates
---------------------------------------------------------------------------
Throughput: Approximately 2000 seconds (10-sheet processing)
* Number of defects: 100 / piece
* Reference imaging mode
* Depends on defect location
---------------------------------------------------------------------------
Review (moving to AF to imaging) time: fastest 0.5 seconds
* Depends on defect location
---------------------------------------------------------------------------
The System takes defect images and the datum are upladed to the upstream system.
The defect infomation is provided by Wafer Review System and Wafer Inspection System; AVI.
The System also analyzes the defect information from AVI.
Seiwa SAWR Series inspect your application at high speed with high precision.
We can also manufacture AVI.
表裏パターンずれ検査装置 / Double Side Alignment Inspection
Double Side Alignment Inspection
概要

両面露光後の表裏パターンのズレ、貼り合せ後のウエハのズレを表裏各々の方面から同時にズレ量を計測
(TOP-BOTTOM計測)
表面レイヤー露光後のアライメントズレも計測(TOP-TOP計測)
カセットtoカセットタイプ、セミオートタイプも用意
薄いワーク、反り易いワークにもオプション対応致します。

[Overview]
Simultaneously measure the amount of misalignment of the front and back patterns after double-sided exposure and the misalignment of the wafer after bonding from both sides (Top-Bottom measurement).
Measurement of alignment deviation after surface layer exposure (TOP-TOP measurement)
Cassette to cassette type and semi-auto type available

Possible to handle thin and easily warped workpieces as option.

用途

半導体デバイス
CMOSデバイス
センサーデバイス製造工程での表裏パターンニング精度管理」


[Use]
Semiconductor device
CMOS device

Front and back patterning accuracy control in
sensor device manufacturing process

仕様

Waferサイズ   Maxφ12インチ
---------------------------------------------------------------------
測定再現性精度    10X 0.2μm/3σ(Top-Bottom)
           20X 0.02μm/3σ(Top-Bottom)
---------------------------------------------------------------------
画面計測箇所     25箇所
---------------------------------------------------------------------
レシピ管理数     2,000個
---------------------------------------------------------------------
スループット     Top-Top 100枚/h
*5点計測       Top-Bottom 100枚/h
---------------------------------------------------------------------


[Specification]
Wafer size Max φ12 inch
-------------------------------------------------- -------------------
Measurement repeatability 10X 0.2μm / 3σ (Top-Bottom)
20X 0.02μm / 3σ (Top-Bottom)
---------------------------------------------------------------------
Screen measurement location 25 positions
---------------------------------------------------------------------
Recipe number 2,000
---------------------------------------------------------------------
Throughput Top-Top 100 sheets / hour
* 5 points measurement Top-Bottom 100sheets / hour
---------------------------------------------------------------------
マイクロLED検査&リペア装置 / μ LED Inspection & Repair
μ LED Inspection & Repair
概要

MINI/μ-LEDのマストランスファー後のChip検査、Chip除去、Chip再マウントをする装置

[Overview]
After mass transfer of MINI / μ-LED, this machine perform chip inspection, chip removal and chip remounting.

用途

大型ディスプレイのMINI/μ-LEDのデバイス完成に対して、ディスプレイを修正する装置

[Use]
Equipment to modify the display for the completion of MINI / μ-LED devices
for large displays

仕様

検査工程:LED Chipの検査
     Chip 有/無
     Chip 位置ずれ
     Chip 汚れ
     Particle
     PL(フォトルミネッセンス)
Chip除去:レーザー照射による、半田の溶融し、除去
Chip再マウント:Micro LED 15×25μ~100μ、Mini LED 100μ~1000μm


[Specification]
Inspection process: LED Chip inspection
Chip Yes / No
Chip misalignment
Chip dirt
Particle
PL (photoluminescence)
Chip removal: Laser irradiation melts and removes solder
Chip remount: Micro LED 15×25μ~100μ, Mini LED 100μ~1000μm
狭ベゼル対応レーザーボンディング装置 / Laser Bonding for Slm Bezel Display
概要

ヒートシンク式溶着の進化版の、レーザーボンディング装置。
周辺にダメージを与えず、均一性の高い圧着が可能。


[Overview]
Laser bonding equipment, an advanced version of heat sink type welding.
Highly uniform crimping is possible without damaging the periphery.

仕様

搭載レーザー;LDレーザー
Laser照射幅;0.3mm×25mm
均一性   ;90%以上


[Specification]
Onboard laser; LD laser
Laser irradiation width; 0.3mm × 25mm
Uniformity; 90% or more
ダイレクトレーザーソルダリング装置 / Direct Laser Soldering
概要

リフロー後の検査で、ノーボールの場合、半田ボールを再搭載し、レーザーでダイレクトにソルダリングを行います。

[Overview]
Inspect and find the position of No (absent) ball after reflow,
remount solder ball and perform soldering directly by laser to the proper position.

仕様

検査    ;On Fry検査
ボール搭載 ;1SEC以下
搭載レーザー;LDレーザー


[Specification]
Inspection ; On Fry inspection
Ball mounted; 1sec or less
Onboard laser; LD laser